Massage Therapy at Bayside Chiropractic Collective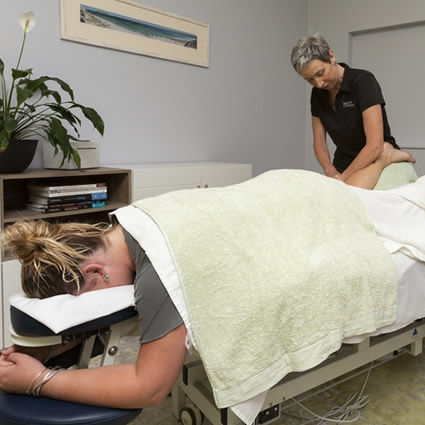 At Bayside Chiropractic Collective, we believe in having a whole-body approach to improving your health and wellbeing. Remedial massage can be a great therapy when combined with chiropractic care to help boost your body's healing.
Remedial massage is the systematic assessment and treatment of the muscles, tendons, ligaments and connective tissues of the body to assist in rehabilitation, pain and injury management. It's performed to create favourable conditions for the body to return to normal health after injury.
Help to Eliminate Pain, Naturally
If a patient has suffered a moderate injury resulting in structural pain and/or loss of function, then remediation is required to reduce or eliminate pain and restore that function.
Remedial massage is designed to balance muscle/soft tissue length, tension, tone which will in turn promote the return to normal joint/capsular/bone position. It can also help to increase the flow of blood and lymph, particularly in the injured areas. This will then remove any blockages, damaged cells, scar tissue and adhesions resulting from the injury.
A remedial therapist has knowledge in anatomy, physiology and pathophysiology to determine where to treat patients.
Your first visit will include a thorough consultation and assessment with our remedial massage therapist. We will be able to ascertain your current health status and areas of concern that you wish to improve.
If you're a good candidate for remedial massage therapy, we can then apply the relevant and appropriate treatment at your first visit.
Remedial massage therapy may be beneficial for treatment of the below conditions:
Anxiety
Arthritis
Back or neck pain
Soft tissue injuries
Chronic pain
Headaches
Insomnia related to stress
Muscle Pain and tightness
Myofascial pain syndrome
Soft tissue strains or injuries
Joint pain
Can I use my private health insurance?

Bayside Chiropractic Collective accepts all health funds with on-the-spot claims via our HICAPs machine. We suggest you call your insurer to understand your coverage and limits.
Can I use the National ADF Health Program for remedial massage?
To be eligible for the National ADF Family Health Program, you must be a permanent Australian Defence Force member or dependant of reservists on continuous full-time service.
Navy Health Ltd is currently contracted by the Department of Defence and performs all claims processing for the National ADF Family Health Program. Eligible patients will be able to make their claim via ARHG. For more information, please visit the National ADF Family Health Program website.
Are you WorkCover approved?

Yes, all our remedial massage therapists can treat WorkCover clients.
How much does it cost for a remedial massage therapy session?

The cost is $94 for adults, concession members and children.
Do you have gift vouchers?

We certainly do. They are valid for 3 years and can be purchased at reception.
Do you offer pregnancy massage?
Our remedial massage therapists
are highly trained and skilled to provide pregnancy massage. We also provide pregnancy pillows for your comfort during your session.
What is your cancellation policy?
At Bayside Chiropractic Collective, we understand that sometimes, "life happens" and you will not be able to keep your massage appointment.
With respect to our other massage clients, we request that at least 24-hours' notice is given should you need to reschedule or cancel your appointment.
Because we have specifically kept your appointment for you, the following cancellation fees will apply should appropriate notice not be given.
Cancel or reschedule with less than 4 hours' notice: 50% booked appointment fee – if we cannot fill the appointment.
Missed appointment: 100% cancellation fee.
Late arrivals will result in an abbreviated appointment.
Feel Better With Remedial Massage
Take the next step to feeling better with our remedial massage therapy. Contact us to schedule your appointment.
CONTACT US »

Massage Therapy Salamander Bay, Nelson Bay, Port Stephens NSW | (02) 4984 6897